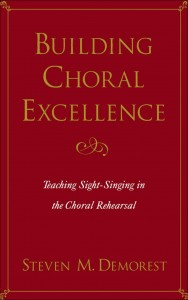 Over my holiday break, I took the chance to read Building Choral Excellence: Teaching Sight-Singing in the Choral Rehearsal by Steven M. Demorest. Yes, you would guess correctly that it is about sight-singing, but not just that. Dr. Demorest provides a history of sight-singing in America, starting with the singing schools of New England and moving towards today. As a student of history I found this chapter to be very interesting.

We are then presented with recent research about sight-singing. I appreciated that Demorest presents the different methods of sight-singing (i.e. moveable do, fixed do, la based minor, etc.) along with the pros and cons of each system. The most useful chapters I found were "Sight-Singing Lesson Models" and "Integrating Sight-Singing into the Choral Rehearsal." Which discussed some best practices to incorporate sight-singing throughout choir rehearsals.

The idea that the best sight-singing choirs are those that include individual assessment really stuck with me. Demorest does a good job of providing some ways that this can be done effectively with large ensembles. And I am looking forward to trying a few of these in my classroom in the coming weeks.

The book also includes a chapter devoted to published materials on sight-singing. Each material is reviewed on the basis of level and sequence, content, method, evaluation, and distinguishing features. This provided some insight into what is out there for the choral instructor.

Overall: Building Choral Excellence is a great resource on sight-singing, and I would encourage any choral instructor to give it a read. Published in 2001, the book will seem dated when it talks about computer programs and resources. It was an interesting read and re-confirmed some of my own beliefs on sight-singing, while also providing some great new information and ideas.